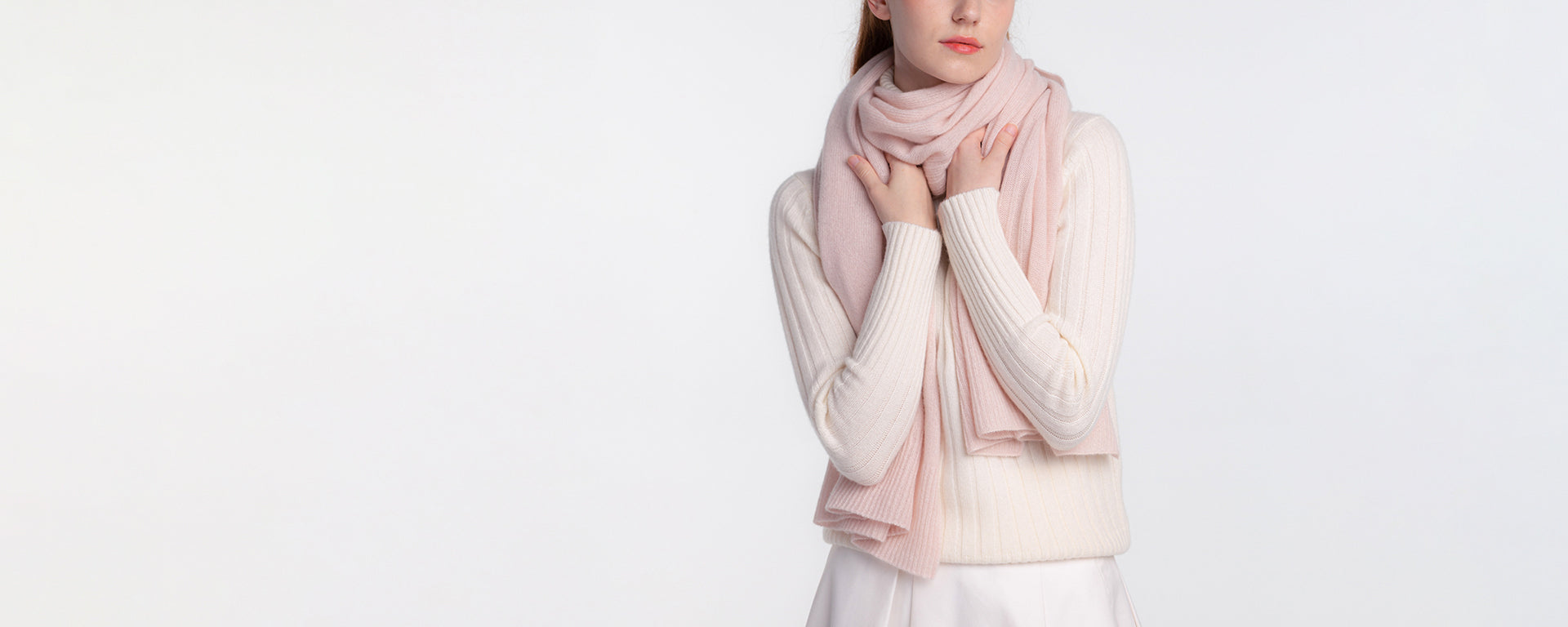 Cashemere Knit Scarf/Stole
UTO Angel's Stole
- Best Seller -
Soft and Fluffy,
Melt-In-Your-Mouth Cashmere
"Angel's Stole"
"Angel's Stole" is a cashmere scarf so soft it feels like it melts upon touch.
The warmth you feel the instant you grasp it, and a texture so pleasant you'll want to keep touching.
The "handmade warmth" knit for you will gently envelop your heart.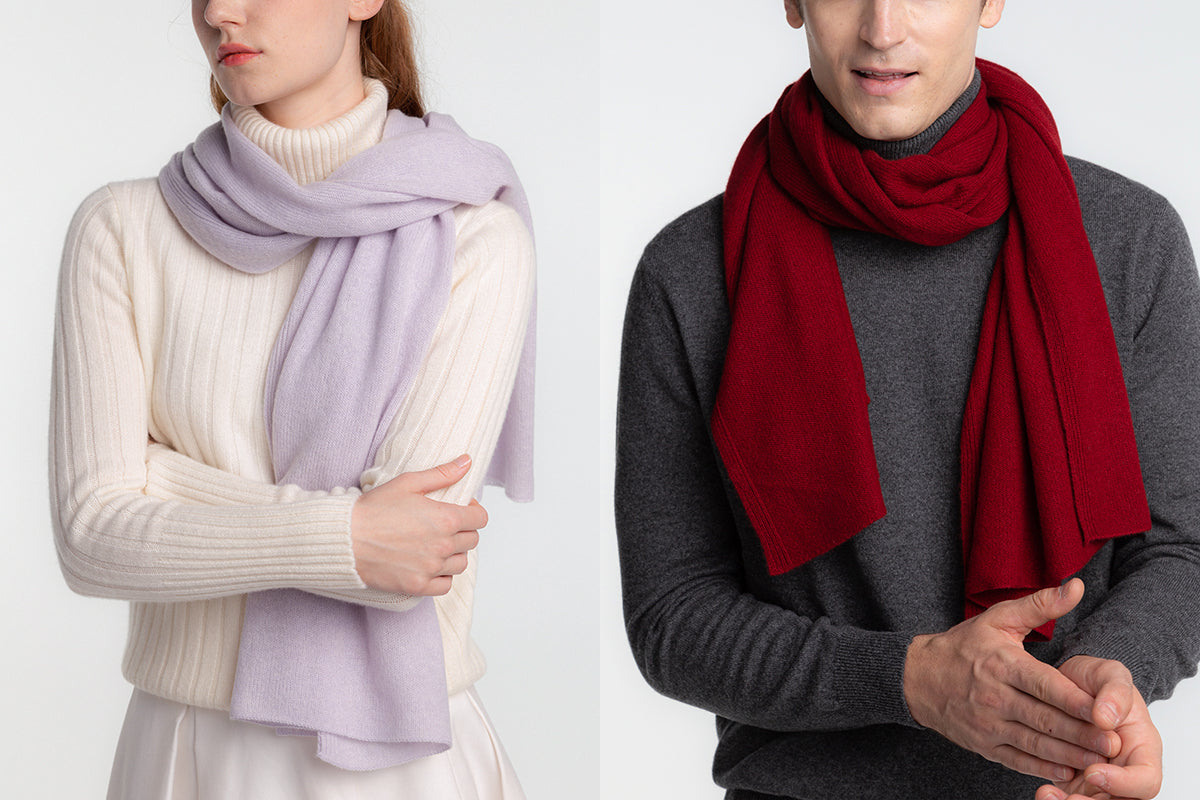 Fluffy, Moist, Soft Cashmere Stole
Once you wrap it around yourself, you won't ever want to let it go.
The soft and moist "Angel's Stole" has been a best-seller for 20 years.
Its secret is in the careful knitting process which captures air within.
We've aimed for the softest touch by using top-quality "Japanese cashmere yarn" and the advanced Japanese techniques honed over 25 years.
The knitting is incredibly delicate, creating an ultimate "feathery softness" and "moist sensation" so delightful you'll want to press it against your cheek.
Drape it once around your neck, and you'll be so comfortable you won't want to take it off.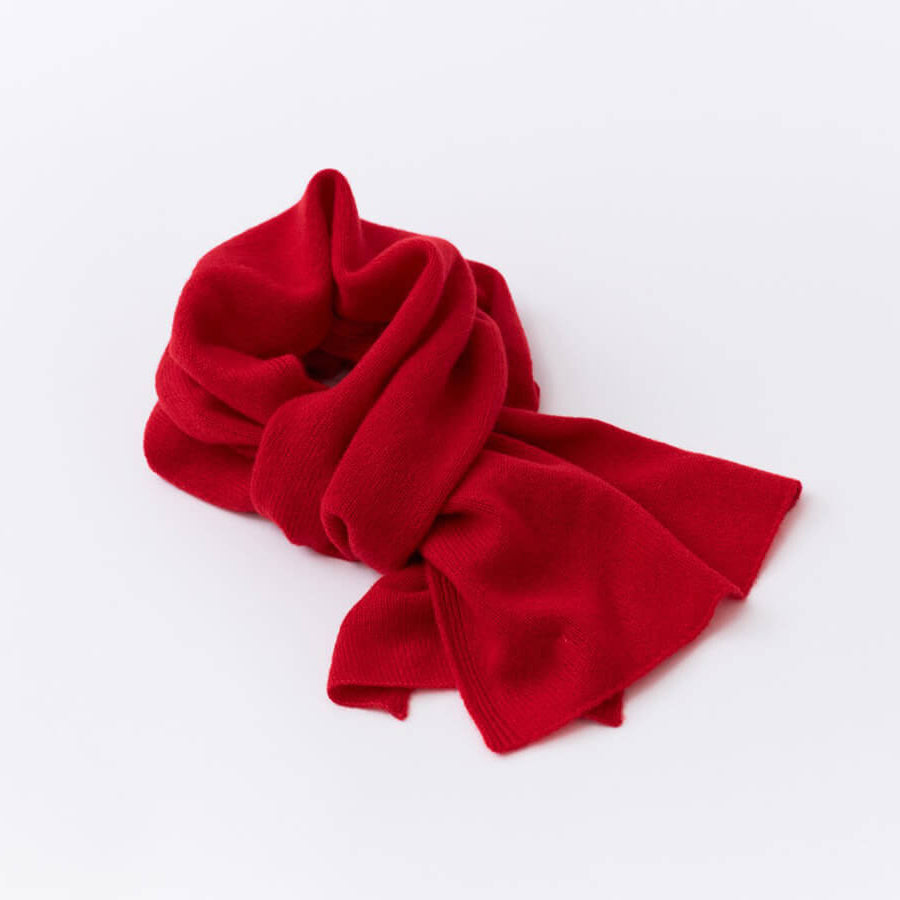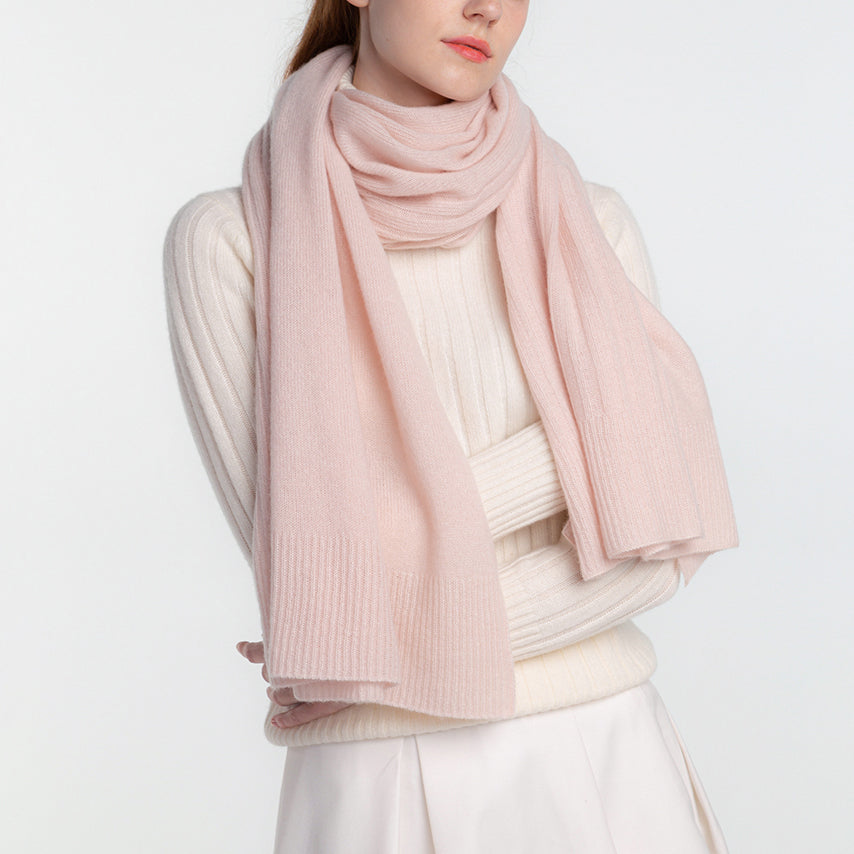 "Knit" Cashmere Stole that Adapts to Your Body
While most cashmere stoles are woven, once you experience a knit stole, you'll never look back.
The knit stole seamlessly contours to your body, ensuring it stays in place, while the elasticity molds to your neck.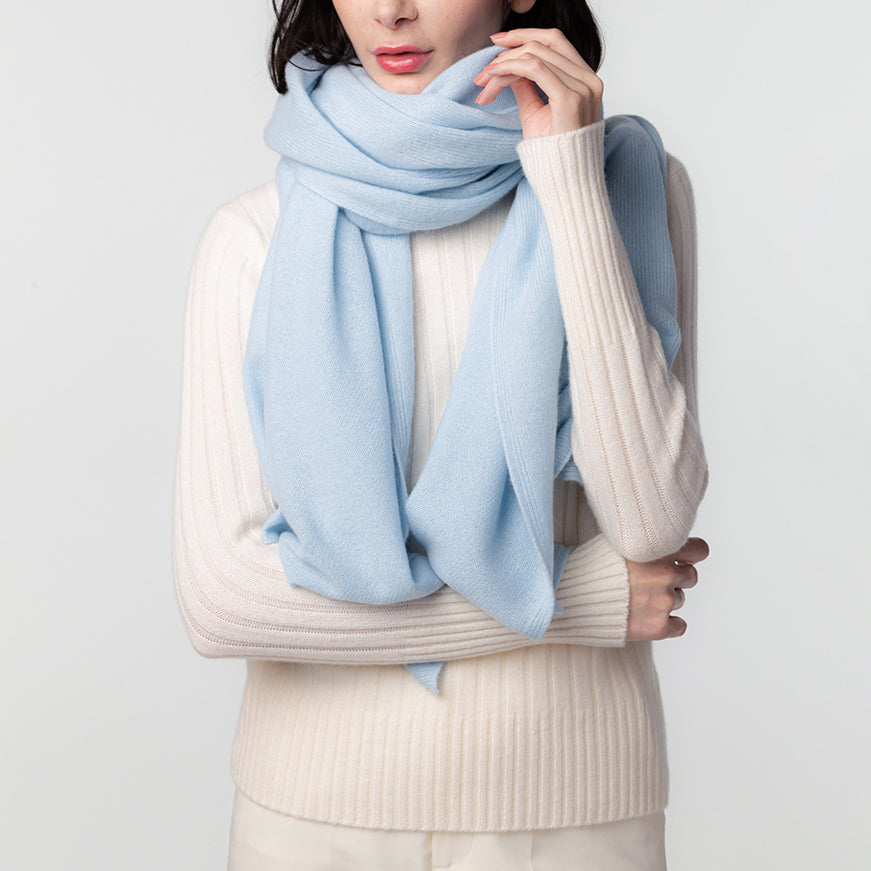 Even the "Shawl size" (200cm x 78cm) feels light, suitable to be draped around the body or worn as a cloak.
So Light and Fluffy, You'll Never Want to Let Go
The smallest "Scarf" size weighs a mere "70g." Even the "Shawl size" is just "220g."
It's so light that you'll forget you're wearing it.
Once you drape it on, you'll be so captivated by its comfort and the warmth of the cashmere that you'll never want to part with it.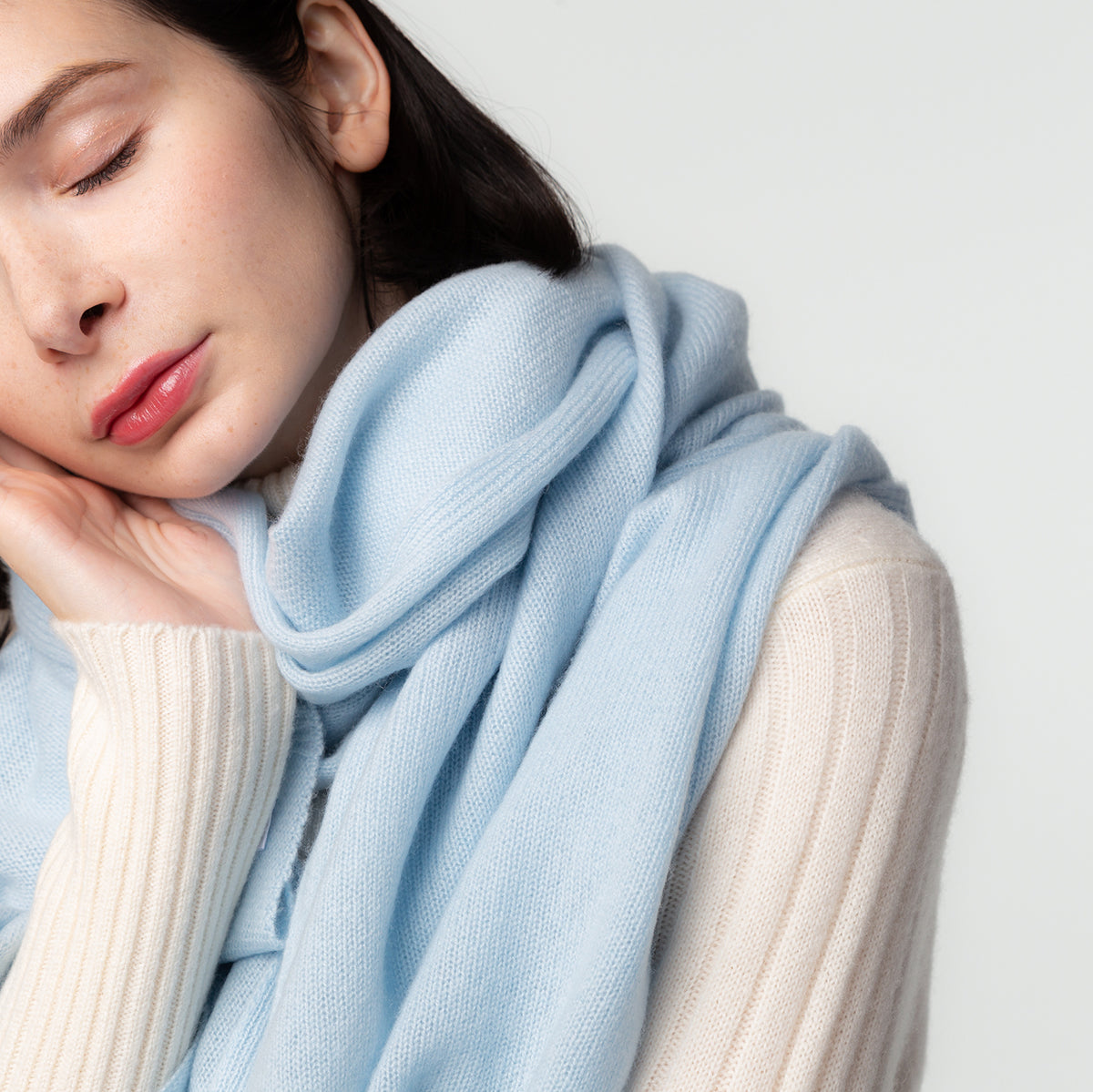 "Nurturing Cashmere"
Cashmere that grows with you for the time you spend with it
Our cashmere doesn't shrink, even after washing. Crafted to maintain its form post-wash, this "washable cashmere" is perfect for relaxed home wear.
UTO's "Nurturing Cashmere" only gets fluffier and smoother with repeated wear and wash, reaching its prime texture after 2 to 3 years.
Generously rinsing it 2-3 times a year will help the tangled fibers puff up.
Over time, you'll enjoy its aging process, distinct from when it was brand new.
Color Options
25 Rich Colors to Choose From
With 25 shades available, enjoy selecting your perfect color.
These rich and sophisticated hues result from Japan's advanced techniques of "low-temperature dyeing" and "color blending."
Craftmanship 
Every piece is imbued with wishes and emotions.
Though intangible, you come to know and feel their essence.
Through the cashmere knit, you connect with its creator.
The bond between you and the cashmere is also a testament to the bond between you and the artisan.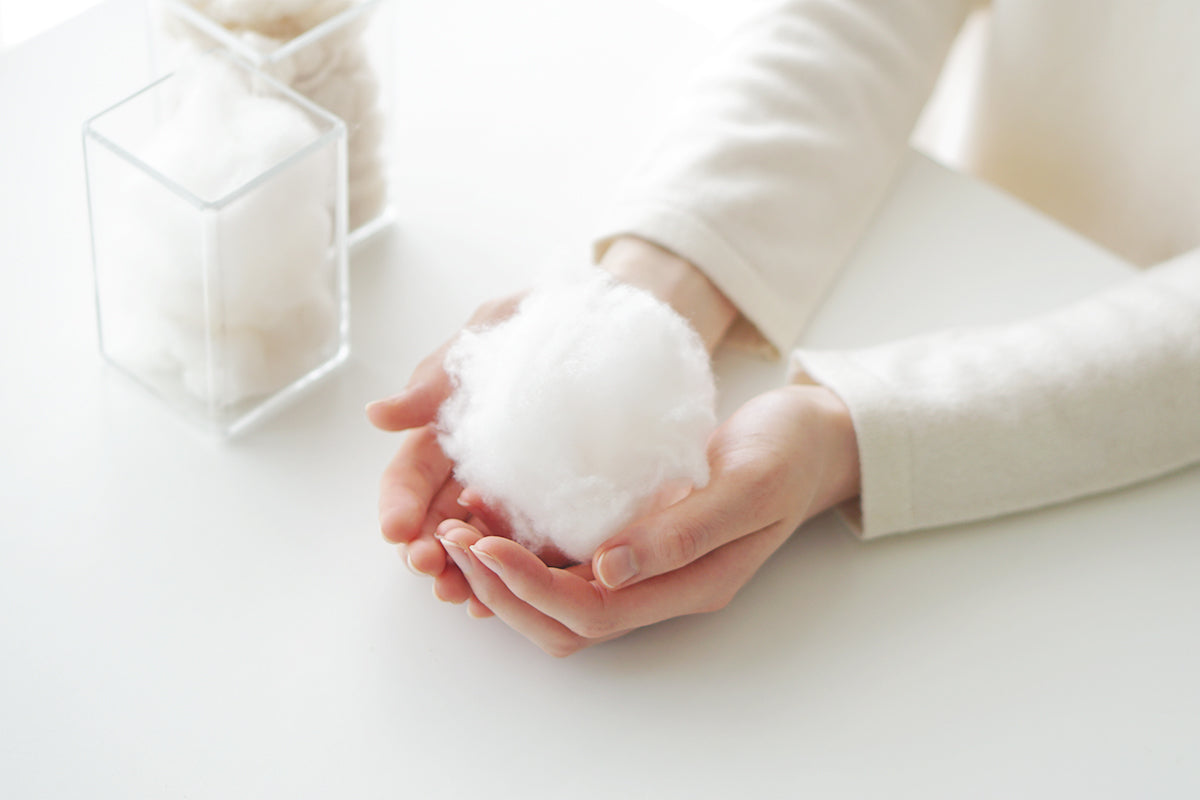 Commitment to Materials
Cashmere quality is ranked from A to C based on fiber length and delicacy.
UTO's cashmere is made from the prime "Grade A" cashmere.
This material is knit with soft, sleek, and exquisite "Made in Japan" cashmere yarn, produced using advanced Japanese technology.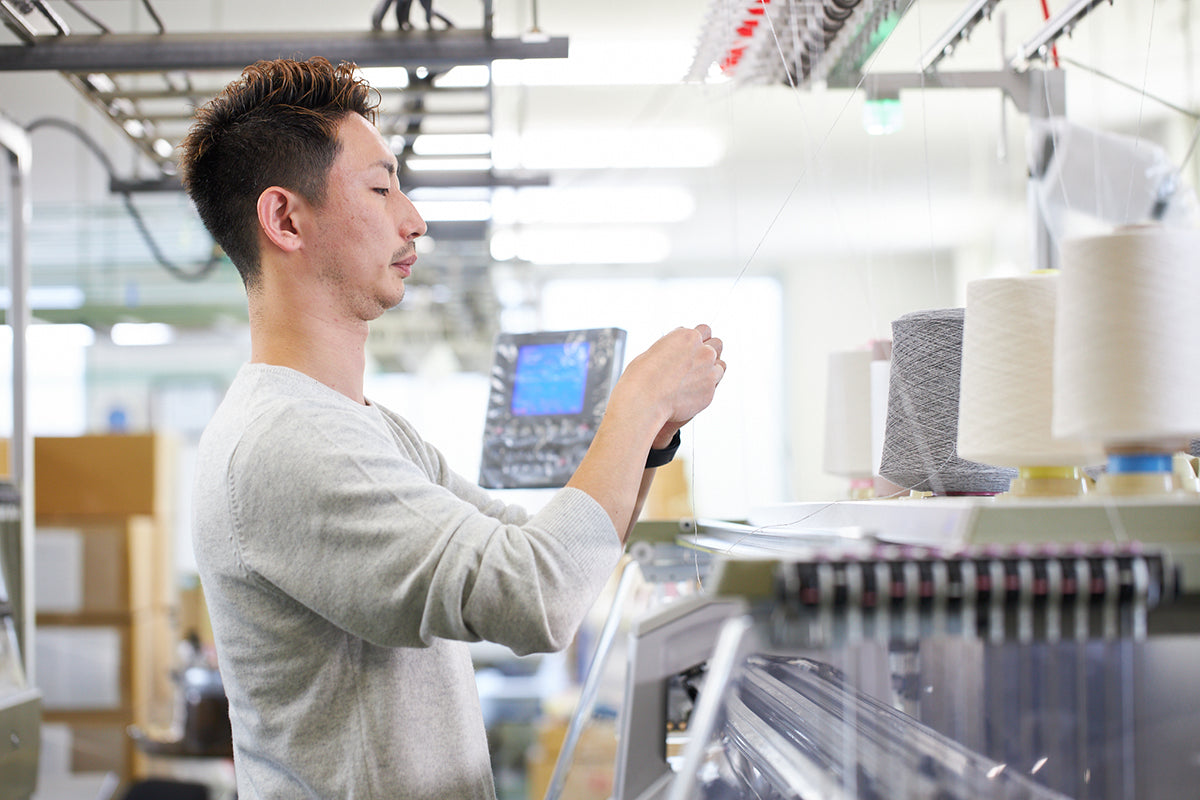 Made in Japan
Our specialized factory in Kitakami City, Iwate Prefecture, stands out globally for its focus on cashmere knitwear.
The dedicated craftsmen of Tohoku produce cashmere garments year-round, accumulating vast expertise.
Every piece is meticulously crafted to uphold superior quality.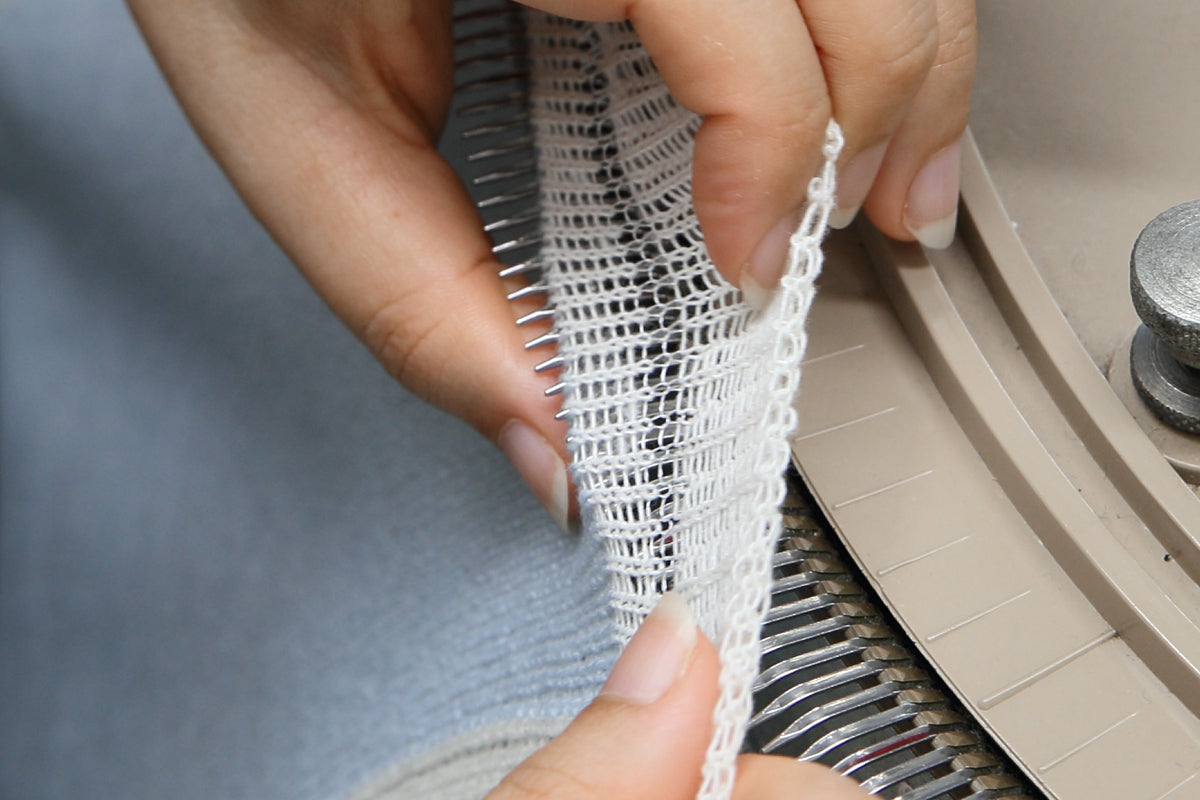 Linking
"Linking" is an artisanal skill.
It involves connecting tiny, individual stitches manually, by sight.
This intricate work requires significant effort, yielding a top-tier scarf that remains smooth to touch and retains its shape even after washing.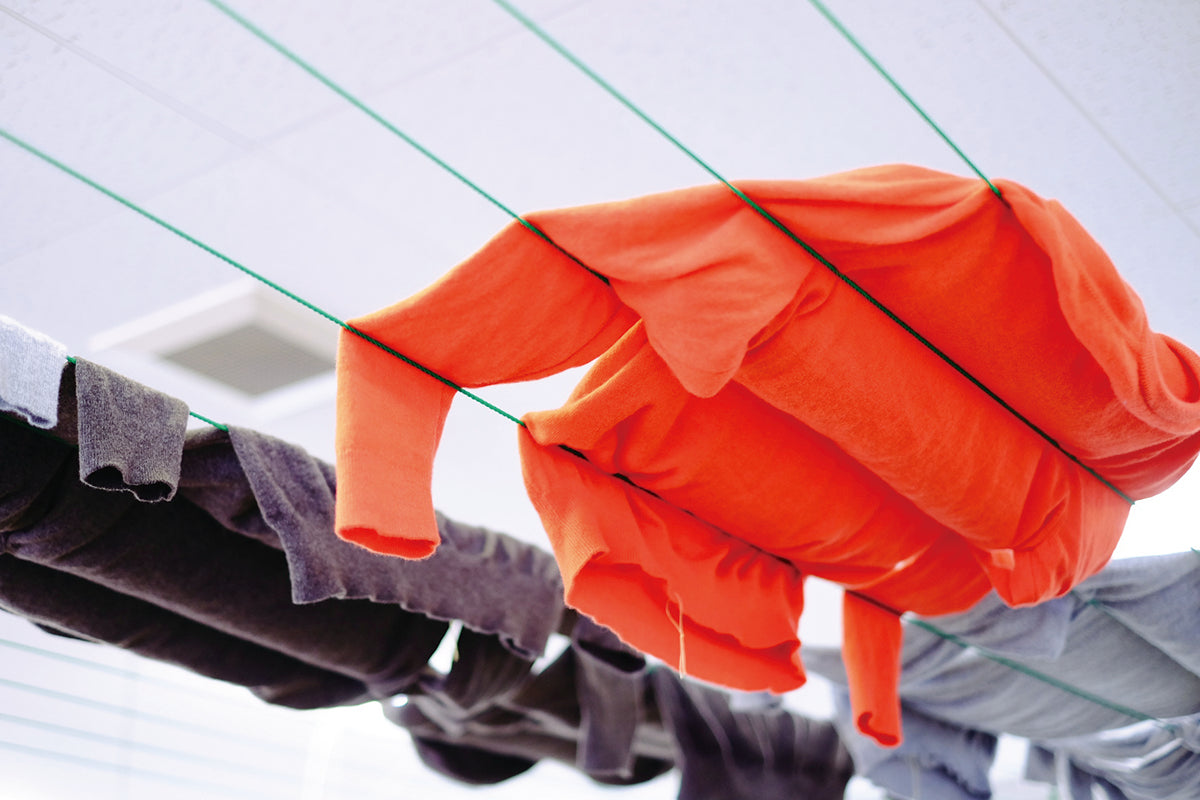 Natural Drying
After the cashmere is washed to enhance its fluffiness, it's left to dry.
While many use dryers for quick results, UTO opts for "natural drying" for all its products.
This method, though time-intensive, is kindest to cashmere.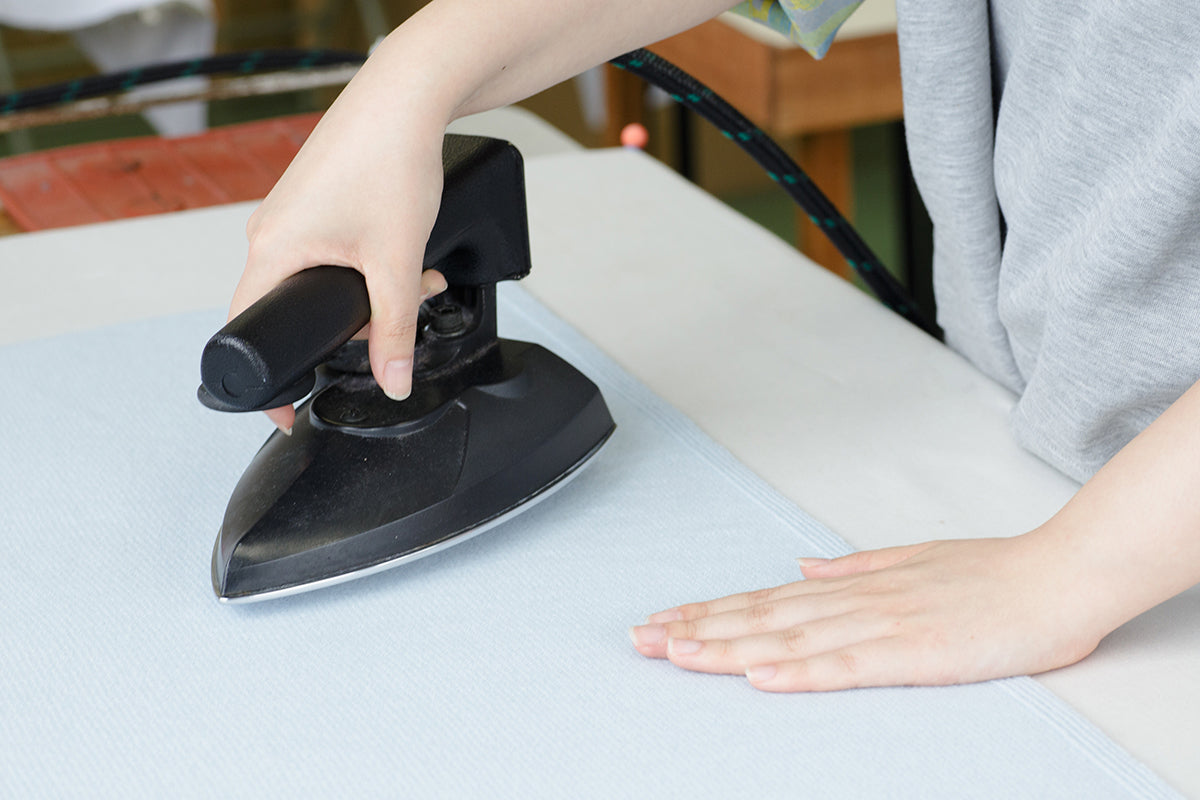 Finishing
Each item is painstakingly finished by hand, steamed to perfection.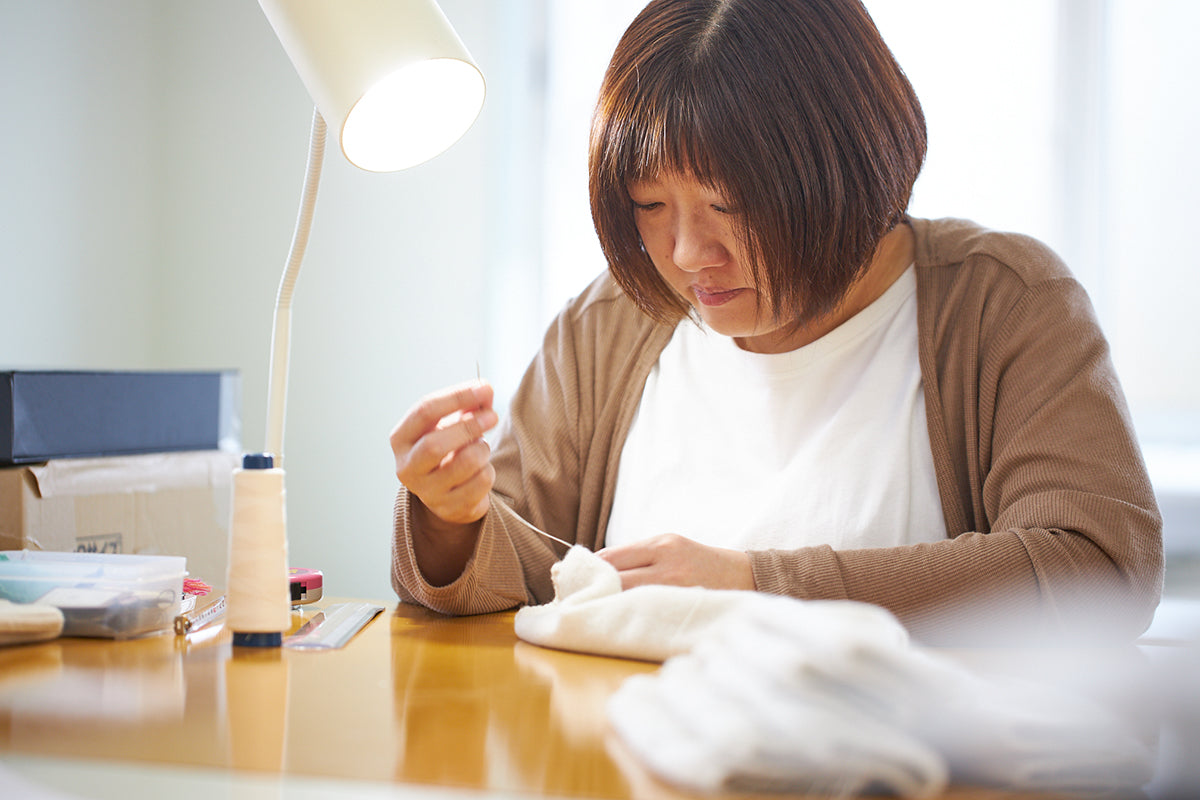 Aftercare
Worried about pilling, stains, or yarn damage from wear and tear?
At UTO, our wish is for our valued customers to enjoy and cherish our products for a long time. That's why UTO is dedicated to ensuring the longevity of your purchase, offering exceptional aftercare services post-purchase.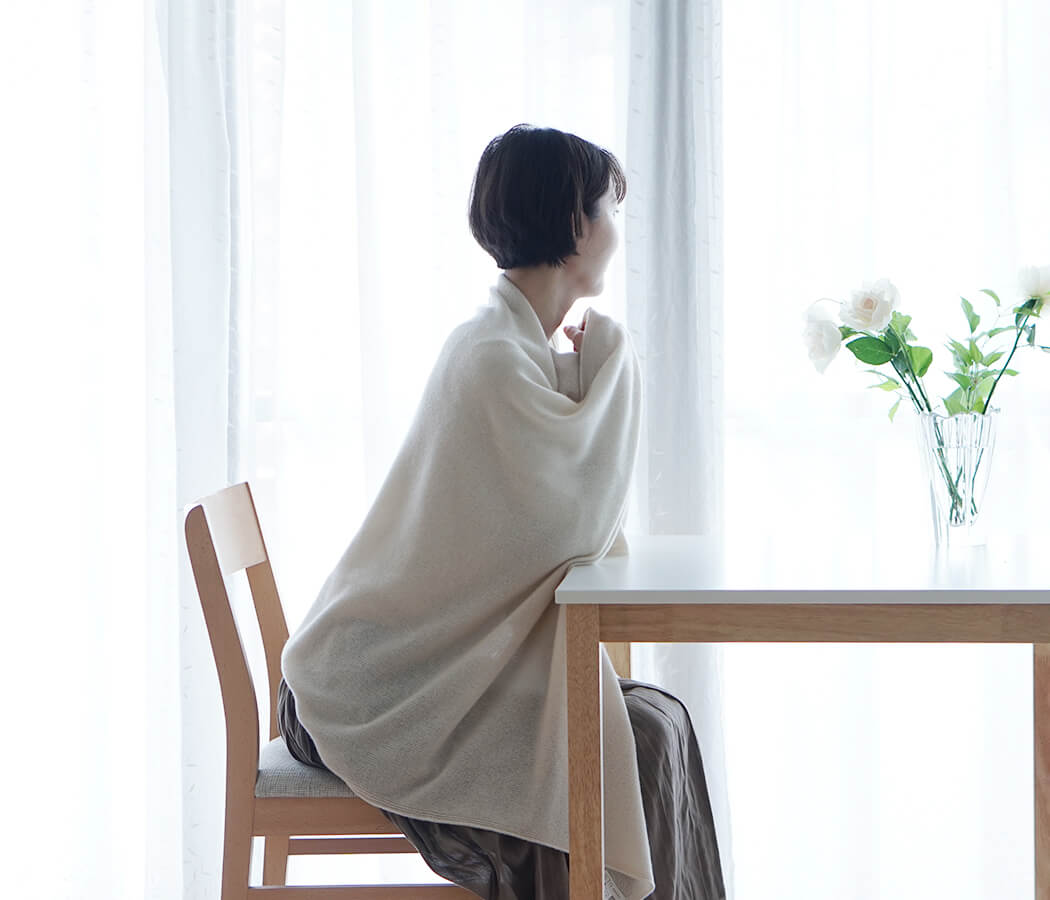 Cherishing the Wait
"Until that moment you've eagerly awaited, when you can finally wear it,"
"After cherishing it throughout one cold season and awaiting the next winter's embrace,"
The "Angel's Stole" transforms even the tranquil anticipation of these moments into something precious.
Lovingly crafted, it promises to deliver unparalleled warmth and joy to your heart.
We've always pursued crafting the finest cashmere knitwear to accompany you through life's moments
A once-in-a-lifetime treasure.
UTO is dedicated to accompanying you throughout life's moments and will remain by your side for the years ahead.
We've always pursued crafting the finest cashmere knitwear to stay beside you for years.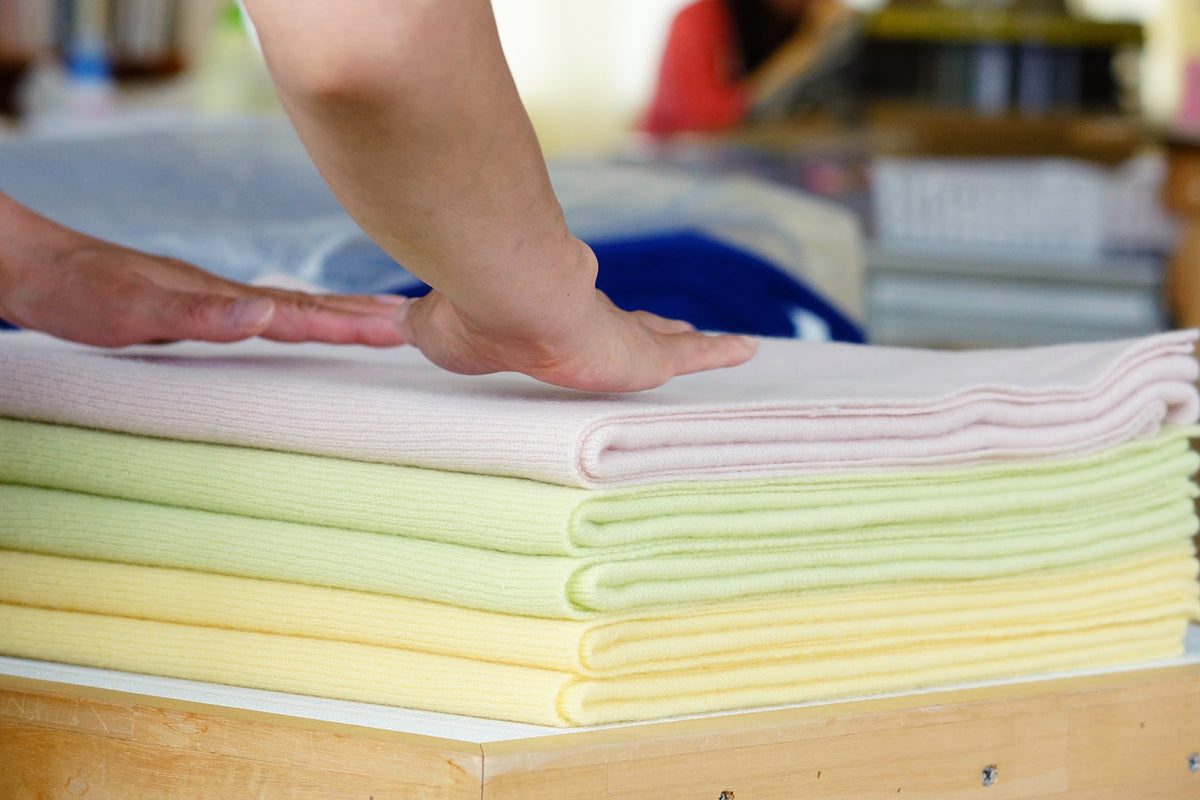 Let customers speak for us
A stole filled with the craftsman's thoughts and kindness
From its origin as delicate wool, cashmere transforms into "Angel's Stole" designed just for you.
Each crafted by experts in various fields, devoting extensive time and effort at every stage.
It embodies the essence of kindness, intended to enrich the life of its wearer.
A masterpiece that warms both body and soul, just for you.