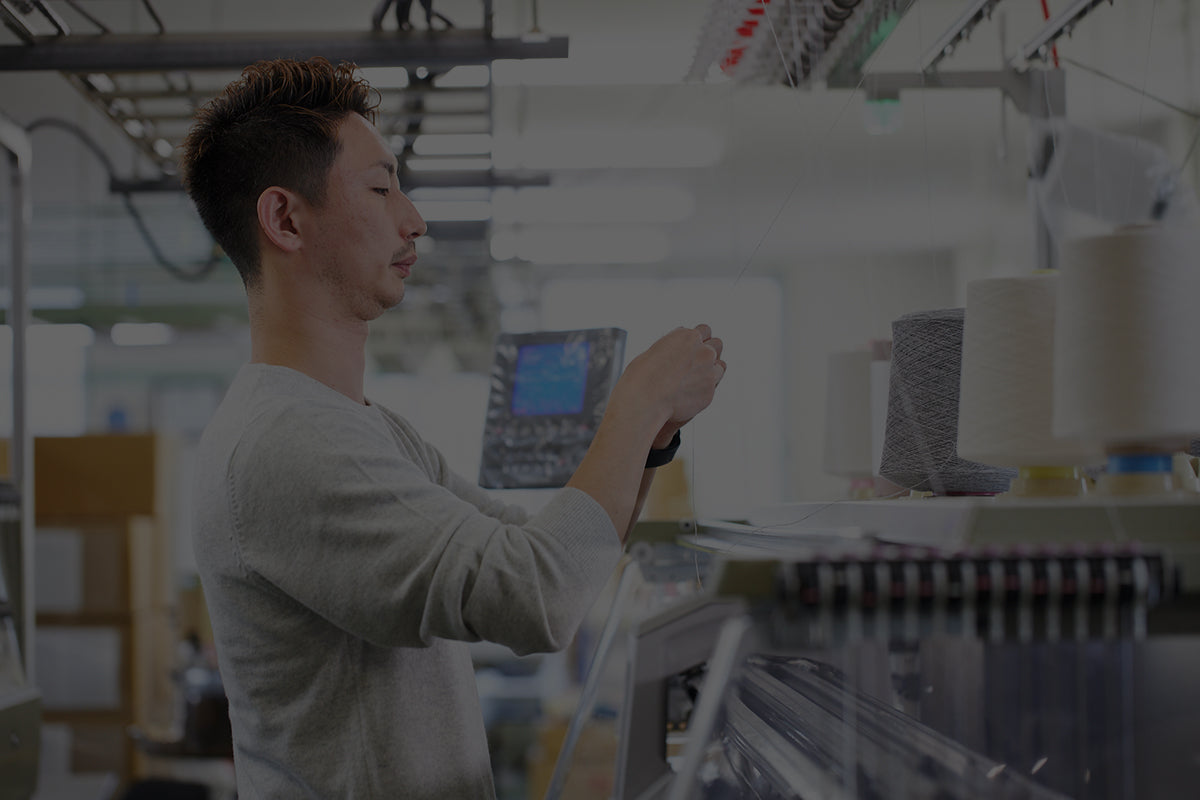 UTO's Artisans
Cashmere craftsmen in Michinoku, Japan's snow country.
Careful, uncompromising and heartfelt craftsmanship. 
UTO's factory is located in Kitakami City, Iwate Prefecture, blessed with four distinct seasons.
Here, artisans specializing in cashmere are devoted to their craftsmanship. Piece by piece, they rely on polished expertise, the resolute spirit of the people of Tohoku, and meticulous care to create cashmere knitwear.
By doing all the work in-house, we take responsibility for all aspects of manufacture and are committed to each and every step of the process.
UTO is proud of its "craftsmanship with a face."
■ 

CRAFTMAN'S FILE 01

 
Factory Manager / Hiromi Tamazawa
Cashmere knitwear called UTO
I first learned about cashmere and manufacturing when I joined UTO. Until then, I had always seen clothing as something that expressed passing trends, and I had never paid much attention to the texture of material, let alone the quality of the fabric. However, I still remember my surprise at feeling the softness of 100% angel cashmere for the first time after joining UTO. I learned that quality that I can wear forever comes from the materials and the well-honed sense of the craftsman. I had this realization as I thought about how I could support the factory as a craftsman.
The processes needed to create UTO's high-quality products involve  pattern making(programming), knitting, linking, finishing, and inspection. As a craftsman, all these skills must be mastered. And each of these processes is done in-house. I'm grateful for an environment in which all of these processes are carried out onsite, and I want to continue creating products that bring smiles to the faces of both UTO craftsmen and everyone who encounters our products.
■ 

CRAFTMAN'S FILE 02

 
Director of Production / Hidemi Tateshita
Aiming to be the world's best cashmere knitwear specialists
Since our factory in Kitakami City, Iwate Prefecture opened in 2011, I've been involved in knit-making, which I love. I check received orders, develop new products, and during busy times, I step in on each process and work with staff onsite, so I'm very fulfilled every day.
Since 2014, UTO's cashmere knitwear has become available to many customers as a tax return gift from the hometown of Iwate. We have also increased the number of young staff members, and we are putting a lot of effort into their training. I'm grateful to be able to work in a rare environment in Japan, where we take the product from yarn to finished garment, and I'll work hard with our staff to make everyone happy with the knitwear we produce.
■ 

CRAFTMAN'S FILE 03

 
Editorial Director / Jun Takahashi
THE Craftsman
At the factory, we're in charge of knitting, inspection, shrinking, and aftercare (repair and refreshment of products that have been used). In particular, both knitting, in which yarn is knitted into parts of products, and shrinking, in which the material is finished to the appropriate texture, are important processes that determine the overall quality of UTO's products.
The appeal of this job is being able to grow through the teachings cultivated by our seniors, and taking advantage of new discoveries you make as you perform various tasks. I would like to continue to polish my skills as a craftsman of UTO, making small discoveries every day, while also being grateful for the delivery of high-quality products and their long-lasting use through after-sales care.
■ 

CRAFTMAN'S FILE 04

 
In Charge of Linking and Finishing / Chiharu Hatakeyama
A craftsman's approach that I can show my children with pride
I used to work in sales and returned to my hometown of Kitakami during my job search. I was fortunate enough to find a job here at UTO. I remember feeling shocked when I saw the manufacturing scene for the first time. I was intimidated by the advanced skills of my seniors, but at the same time I felt motivated to be like them one day.
The path to becoming a craftsman is a steep one, and each day brings new discoveries. I'm always happy when I can see my own growth and when my seniors show appreciation for my work. I will continue to hone my skills so that when my children grow up, I can proudly say, "I am a craftsman at UTO."
■ 

CRAFTMAN'S FILE 05

 
In Charge of Machine Sewing / Minako Yaegashi
Effort and confidence, there's nothing better
It's been six years since I joined the company with the desire to work in the sewing industry. Every day I polish my skills in an ideal environment, where I can become absorbed in the work of making things. Recently, I feel that I am finally getting close to something I'm satisfied with. I want to deliver products that satisfy me, not just those that barely pass.
Besides my own sewing work, because it's a small factory, all the processes are visible and everyone supports each other, which makes me feel more attached to each product. I would like to continue to make products that carry those feelings.
■ 

CRAFTMAN'S FILE 06

 
In Charge of Linking / Rina Uchisawa
Challenging a new world
I'd been involved in sewing jobs until I had an opportunity to encounter cashmere knitwear for the first time at UTO. I was surprised at the softness of the finished product, but I was entrusted with the linking process, in which the knitwear is joined together using a wedge knitting technique, which is different from the sewing machine work I'd done in the past.
But now I have a sense of accomplishment every day as I join together different parts to complete a single product. I would like to continue to hone my skills with a focus on careful workmanship in manufacturing.