Finest cashmere
Knitwear made exclusively from the world's finest
cashmere without compromise

Crafted Exclusively with Certified Top-Grade Cashmere Wool
Cashmere wool feels comfortable on the skin and is a delight to wear. It is made from the hair of cashmere goats, which live through Asia's extreme annual temperature differences, from winter temperatures of -30° Celsius to summer temperatures of over 30° Celsius.
All of UTO's cashmere knits use the finest Grade A cashmere wool, primarily sourced from China and Inner Mongolia. This specific cashmere is exceptionally soft and delicate. To offer further detail, within the Grade A classification, we select the "1st Class" grade. In Japan, this term signifies cashmere of unparalleled fine quality and excellence.
*Cashmere raw wool is graded based on three criteria: fiber length, thickness (diameter/thinness of the fiber), and the rate of foreign matter inclusion.
Grade
thickness

length of hairs on the fibre

A
14-16 microns

36mm-40mm

B

19-22 microns

around 

34mm
C

22-30 microns

around 

28mm
| | | |
| --- | --- | --- |
| Japanese Grade | thickness | length of hairs on the fibre |
| Grade 1 | 14 microns | 36mm-40mm |
| Grade 2 | 14-15 microns | 30mm-34mm |
| Grade 3 | 16 microns | 28mm-32mm |
| Grade 4 | over 16 microns | under 30mm |
| ... | ... | ... |
| Grade 8-9 | 17-18 microns | under 24mm |
Authentic cashmere yarn from an internationally recognized supplier
UTO uses cashmere yarn supplied by Toyoboshi Kogyo Co., Ltd., a leading Japanese yarn spinning firm.
Toyoboshi is a participant and council member of the Cashmere and Camel Hair Manufacturers Institute (CCMI), an international association of major yarn spinning companies set up to maintain the integrity of cashmere and camel hair products.
・CCMI's Members: https://www.cashmere.org/jap/cachemere-council.php
Since producing Japan's first domestically made cashmere yarn in 1930, Toyoboshi has been supplying the highest quality yarn worldwide for over 90 years.
These carefully selected yarns are the source of the knitwear treasured by our customers.
Knitwear made from a special yarn favored by cashmere afficionados
Knitwear that customers will wear for the rest of their lives must, of course, be made from materials that last.
UTO uses Toyoboshi's brand of cashmere yarn called Piara 26.
Its durability allows knitwear to be worn for a long time, and it produces a smooth texture and attractive knit pattern with straight and uniform lines.
Made from a yarn that has been a long-time favorite of serious enthusiasts for its classic look and feel, our cashmere is the perfect material for those who appreciate a straight and well-proportioned weave, perfectly finished appearance, smooth texture, and durability that can withstand the test of time.
Knitwear made of traceable cashmere so you can wear it with confidence
Customers can purchase our knitwear with peace of mind because we verify when, where and by whom the cashmere was produced.
UTO ensures the traceability of our products by going to the wool producing areas in Inner Mongolia and visiting the households that raise the cashmere goats.
For UTO, the process of certifying our cashmere is vitally important for both customers and our brand.
About certification
UTO has the cashmere it sources tested by a third-party certification organization in Japan, the Ke'Ken Textile Testing & Certification Center, to certify that it is 100% cashmere.
The testing methods used to determine 100% cashmere certification are specified in Japanese Industrial Standards by the Japanese Standards Association.
Likewise, testing methods used to determine the level of color fastness (the resistance of a material's dyed color to fading or running) are specified by the same standards.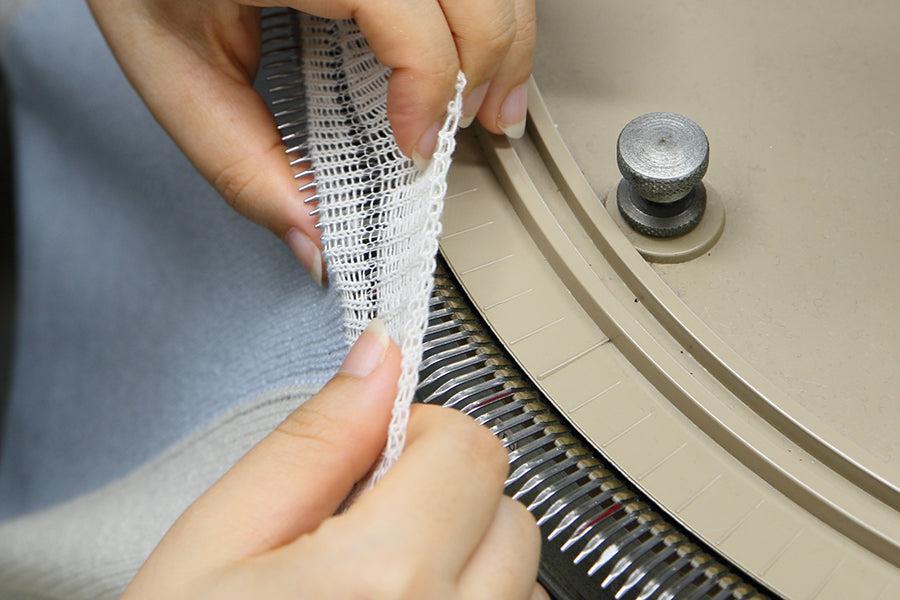 Cashmere products made by dedicated and passionate artisans from Japan's snow country   Experts working with cashmere year-round   UTO's factory is located in the city of Kitakami in Iwate Prefect...
もっと見る