About
UTO's Promise
Carefully handcrafted and finely knit,
UTO's cashmere knitwear is made for the satisfaction of people around the world.
UTO's Quality (Prologue-Story)
As soon as you wear a UTO sweater or scarf, you'll recognize and feel its fine quality.
UTO knitwear can bring out the best in you.
You'll feel positive.
You'll feel like spending time with people.
That's what genuine cashmere knitwear can do.

Made by experienced artisans using carefully selected cashmere, UTO knitwear is personally tailored for each customer.
We believe every one of our carefully knit products will inspire the people who wear them.

Instead of mass producing clothing that are likely to be thrown away, UTO makes knitwear to last.
We hope our products provide our customers with comfort and warmth for many years, including their future generations.
Our goal is to make clothing that our customers will want to wear forever.

The soothing comfort of UTO knitwear will bring a smile to your face – and smiles are contagious.
Our desire to bring happiness to people over the world motivates us to continue handcrafting UTO cashmere knitwear today.
UTO
UTO was founded in 1992 at Aoyama, Tokyo as a knitwear company.
We have our atelier in Kitakami, Iwate prefecture, and are one of the very few knitwear companies that design, manufacture and sell directly to customers.
Our yarn is produced in Japan using only the finest quality cashmere fiber from Inner Mongolia. We proudly take custom orders to create cashmere knitwear to suit each customer.



・Company name: UTO co,.ltd
・CEO: Toshikazu Uto
・Office/Showroom: 607 Tatsumura Aoyama, 5-4-35, Minami Aoyama, Minato-ku, Tokyo, 107-0062
・Factory: 3-164 Jiwari 12, Shimoezuriko, Kitakami city, Iwate prefecture, 024-0073
・Date of the establishment: 1992/7/29
CEO : Toshikazu Uto
-
Born in Nagasaki Prefecture, Uto is an avid traveler. In the 1970s, he utilized his wanderlust in his role as a professional travel coordinator, organizing unique tours that provided opportunities for amateur musicians to perform overseas and for apparel professionals to experience the European fashion scene. Captivated by the light and soft texture of cashmere, Uto made a career shift into the knitwear industry. His engagements with various countries like England, Italy, Hong Kong, Taiwan, and Korea provided him with deep insights into fashion and knitwear. In 1992, Uto founded "bhf International" in Minami Aoyama, Tokyo, with the ambition of delivering the world's finest knitwear. By 1996, he launched a "custom order knitwear" service, emphasizing cashmere as the primary material. The company was rebranded as UTO in 2000, and in 2005, they established their own factory in Yamanashi Prefecture to enhance the quality of their custom cashmere knitwear. In 2011, UTO relocated its factory to Kitakami City, Iwate Prefecture amidst the chaos ensuing from the Great East Japan Earthquake. As a response to the disaster, UTO began annual donations to the city hall from the proceeds of their cashmere knitwear sales to aid reconstruction efforts. In recognition of these philanthropic activities, Uto received the Development Merit Award from Kitakami City in 2022.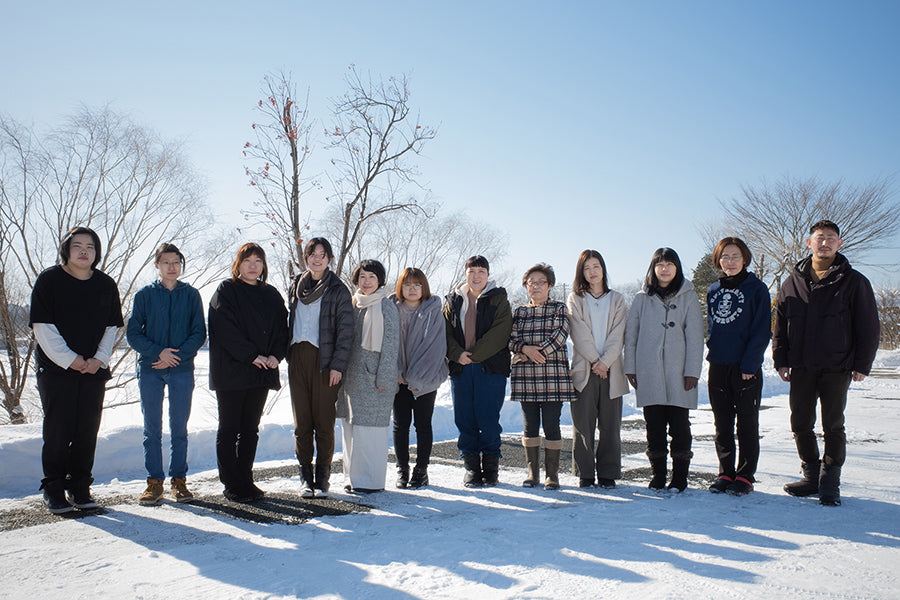 Cashmere craftsmen in Michinoku, Japan's snow country.Careful, uncompromising and heartfelt craftsmanship.    UTO's factory is located in Kitakami City, Iwate Prefecture, blessed with four distinct...
もっと見る